Event Description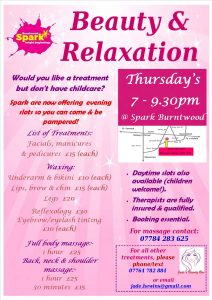 💅After the success of our pamper evening we thought – wouldn't it be great to be able to offer regular beauty and relaxation at Spark!?
🙋‍♀️We are extremely pleased to announce this is now happening thanks to two lovely qualified and insured beauticians who joined us on the pamper night, Jade and Ellie.
👏So maybe you would like a treatment during the day but have your children with you, and want them to be able to play in the room while you get that all important beauty treatment? Or perhaps you want to leave them in bed at home on an evening while you pop out and get a relaxing massage in peace! Evening appointments can be booked with a friend so you can enjoy it together.
😍We are offering regular Thursday Treatment Evenings at Spark and daytime appointments by arrangement. Treatments and prices are listed on the poster and contact details for Jade and Ellie for booking.
📲
📧
We hope you will come and enjoy beauty and relaxation at Spark with us soon!
Thursdays and other times by arrangement
07:00 PM - 09:30 PM
Spark Centre
Various
Jade and Ellie
07784 283625/07764 782884