Event Description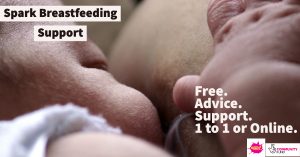 June 2021
Thinking of
#breastfeeding
? Breastfeeding a new baby and in need of a friendly supportive chat? Need some help and support with your breastfeeding journey?
Whatever your question or query, our breastfeeding supporters will happily chat with you. Until our usual group can return this can be over whatsapp, via video call or 1 to 1 by arrangement.
Support might include:
Getting breastfeeding started
Positioning and attachment
Milk supply
Routines
Safer sleep
Difficulties with feeding
Expression and storage
Starting weaning
Please note that our breastfeeding supporters have a wide knowledge and experience of breastfeeding but are not medically trained. If you have a medical query, or are concerned about your health or the health of your child please consult your doctor.
We look forward to hearing from you.
Starting soon contact us for more info:
Friday
11:15 AM - 12:15 PM
Spark Centre
Free