Event Description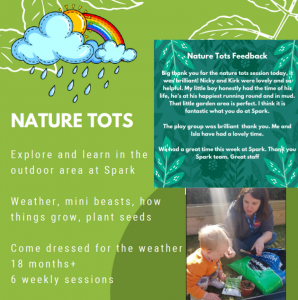 Come and join Nicky and Kirk in our new outdoor nature play area where toddlers and young children can come and meet and play together with activities themed around nature, the seasons, planting and wildlife.
This session gives the children the opportunity to explore and discover all the play opportunities in our new nature area with equipment and toys that are age appropriate and engaging.
Please wear appropriate clothing and bring wipes and a towel as children may get wet or dirty. These sessions go ahead in all weathers.
Please make sure you are already a Spark member here before booking on any of our activities https://app.upshot.org.uk/signup/9ce4f71d/
Walkers to age 4 (siblings welcome)
DROP IN
Have fun!
Please email us for any questions  booksparkburntwood@outlook.com
Sign up with Spark Burntwood
Tuesday
10:00 AM - 11:00 AM
Spark Centre
£4
Spark