Event Description
Come and talk to the local school nurse about any concerns for children aged 0-19
Mondays 4-5pm
Term time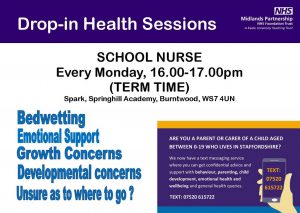 Drop in – no appointment necessary
FHWS.east@mpft.nhs.uk or FHWS.east@nhs.net
0300 303 3924
The Families' Health and Wellbeing Service (0-19) is an integrated service that brings together health visiting and school nursing for the county of Staffordshire.
The Families' Health and Wellbeing Service (0-19) is provided in the county of Staffordshire only.
This service seeks to improve the health and wellbeing of children, young people and families and improve school readiness. It offers a balance of self-support, support from professionals and from the wider community. This includes using digital technology to meet the individual needs of busy modern families.
All Staffordshire children, young people and families will be offered universal reviews and checks by the programme.
Breastfeeding advice and support, maternal mental health support and nutritional advice is also available.
Additional professional support will be provided to families, where required.
Sexual health information, emotional health and wellbeing advice and support is available via the hubs, Chat Health and drop-ins.
TEXT MESSAGING SERVICE: A text message service and app for young people and parents to ask for health and wellbeing advice. Messages sent to the dedicated number are delivered to a secure website and responded to by one of the trained health professionals in the team, including school nurses and health visitors.
ChatHealth is available between 09:00 and 17:00, Monday – Friday.
Outside of these times, anyone who texts the service receives a bounce back message explaining where to get help if their question is urgent and when they can expect a response.
Texts are usually replied to within one working day.
Numbers to text
Young people in Staffordshire should text 07520 615721
Parents in Staffordshire should text 07520 615722
Mondays
04:00 PM - 05:00 PM
Spark Centre
Free
Lichfield 0-19 Service
0300 303 3924