Event Description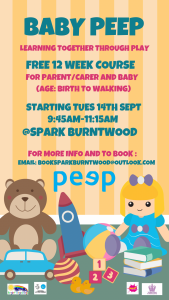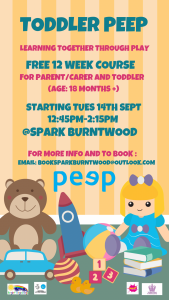 Peep Learning Together is a parenting prog ramme that helps:
parents and carers to improve their children's life chances, by making the most of everyday learning opportunities – listening, talking, playing, singing and sharing books and stories together
babies and children to become confident communicators and learners through play
practitioners to develop their work with parents/carers and young children
parents and carers to recognise and build on on their own learning potential and achievements
communities to narrow the attainment gap, which appears even before children reach school.
Baby PEEP 0-12 months
8 places booking required  (currently full)
Tuesday 9:45am to 11:15am
Toddler PEEP 2-4 years
6 places booking required (currently full)
Tuesday 12:45pm to 2:15pm
For more information contact us booksparkburntwood@outlook.com
Commences 14th September and runs for 12 weeks – with one week off for half term. Last session in this cohort 07th December.
Sign up with Spark Burntwood
Tuesday 9:45 or 12:45
Spark Springhill
Booking required
Bright Beginnings
booksparkburntwood@outlook.com