Event Description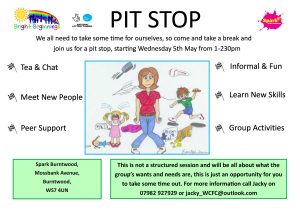 It is an informal group that presents the opportunity to take some time out, meet friends, gain peer to peer support and engage in group activities.  This is not a structured session and will be all about what the group's wants and needs are.
BOOKABLE
booksparkburntwood@outlook.com
Sign up with Spark Burntwood
https://app.upshot.org.uk/signup/9ce4f71d/
Commences 15th September and runs for 12 weeks – no end date as the sessions are continuous.
Wednesday
Spark Centre bookable
Free
Jacky from West Chadsmoor Family Centre
jacky_WCFC@outlook.com