Event Description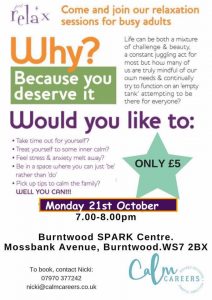 Come and join our relaxation sessions for busy adults.
Beautiful people of Burntwood and beyond….we're back again!
Monday 21st October 7-8pm at Spark
An evening of looking after you and putting you back in the centre of your life…your chance to pause and breathe.
Let Nicki know at Calm Careers if you want a space reserved….
Monday 21st October
07:00 PM - 08:00 PM
Spark Centre
£5.00
Nicki - Calm Careers
07970377242