Event Description
Thanks to funding from the Coronavirus Community Fund, distributed by The national Lottery Community Fund we are able to offer a new outdoor toddler nature group which will take place on Tuesday mornings from 1:00 to 2:00pm. We would like to thank the Government for making this possible.
We would also like to thank St Anne's for their help with this project.
The session will consist of an orienteering story trail with fun fun physical activities linked to the story theme, a nature art activity, some singing and a story. The session will last about 45 minutes with an additional 10 minutes for people to arrive and make themselves comfortable.
We will meet in the green park area behind Chasetown Community School, Church St, Chasetown, Burntwood WS7 3QL. With parking on Church Street by St Annes Church.
We ask that you bring a blanket to sit on, appropriate outdoor clothing, some wipes for ease of cleaning hands and potties or change mats if necessary.
As we are only able to offer places for 15 children we are only able to provide space for one adult per child. However, each adult is able to bring additional children. Please state any extra children on the form.
To sign up for this group session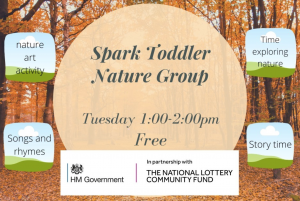 please follow the link below.
Tuesday
01:00 PM - 02:00 PM
WS7 3QL
Free
Spark